What is Android Auto?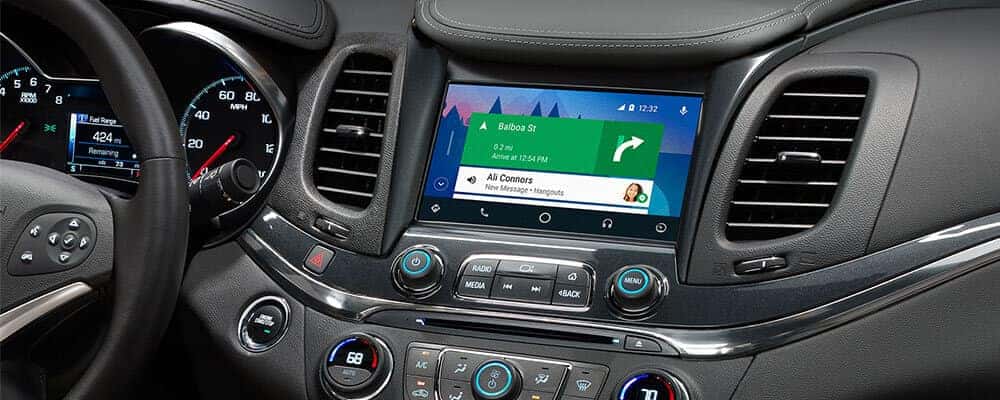 What is Android Auto? You may have seen this feature mentioned on the spec sheet for your favorite Chevrolet vehicle. What does it have to offer? Read on to find out how Android Auto can make your commute more convenient.
The Basics
Android Auto can be accessed via your compatible smartphone or your car's display. It was designed with a simple interface to help minimize distraction on the road. Voice-activated features help you stay connected while keeping your eyes on the traffic ahead.
How it Helps
Maps – With the assistance of Google Maps, you can navigate to new and exciting destinations. Android Auto also provides traffic updates to help you avoid any obstacles as well as lane guidance info so you know which lane will get you where you need to go.
Communication – You can easily make calls or send text message simply by using your voice. Stay in-touch with friends and family without taking your attention off of the road.
Music – Google Play Music gives you access to your favorite tunes. There are over 40 million songs you can choose from.
Apps – Android Auto puts all of your favorite apps in one convenient place.
Voice Actions – All you need to say is, "OK Google," and you can control a variety of commands by voice.
What Do I Need?
To run Android Auto, there are a few requirements:
You will need an Android phone that runs 5.0 (Lollipop) or higher. Then you have to download the Android Auto app.
You also need a vehicle that is compatible with Android Auto, like many of the new models right here at Sunrise Chevy. You can also access Android Auto through a compatible aftermarket stereo.
Experience Android Auto Today
If you would like to see how Android Auto can enhance your driving experience, the friendly staff at Sunrise Chevy would love to assist you on a test drive. We offer many vehicles that are compatible with Android Auto, so you have plenty of great options. Contact us today for more information.
Comments
comments