How to Replace Windshield Wiper Blades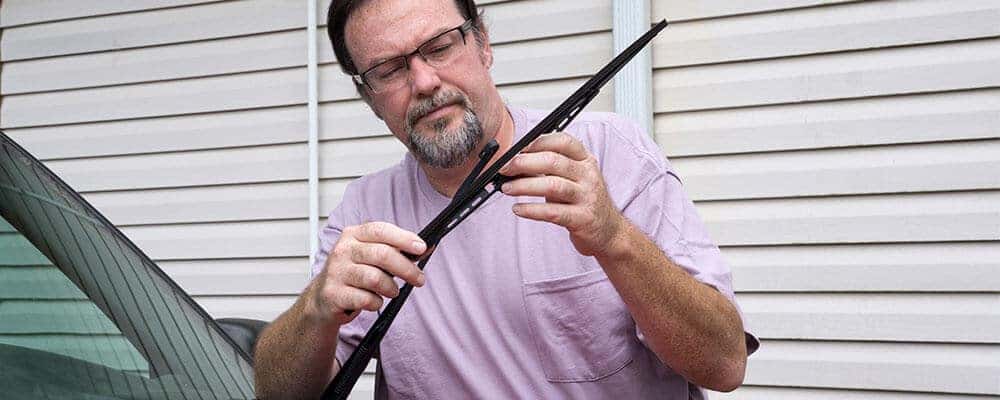 Need to replace windshield wiper blades? Sunrise Chevy is here to show you how to replace the blades on your car. Blades should be replaced often, and you should be paying attention to your windshield to see if they are showing signs of wear and tear. If you notice streaks and "milky" film on your windshield, then it may be time for new wiper blades. Seasonal changes will also have physical effects on your windshield blades, and it's ideal to monitor their abilities. Head over to our service department today for parts, tips, and service!
Easy Steps to Follow
Use the following steps to guide you through the wiper blade replacement process!
You'll need to pick up the proper blade for your car's make, model, and year. Our parts department can help you find the exact blades you need. We even have an online form for our parts department, so you can jump start the process.
To remove the old blades, pull up the entire wiper assembly. Grab the blade and set it perpendicularly to the arm. Grab the tab on the hinge, and pull it until you hear it snap. Once you hear the snap, you can remove the wiper blade. Keep in mind that the arms are sharp metal spokes without the blades, so don't let them hit the windshield.
Now that the old blades are off, you're ready to pop on the new ones. Grab the new blade and place it over the arm through the matching hole.
Line up the hook over the hinge on the arm, and click them together. Lower the arm, and repeat for the following side.
Visit Sunrise Chevy Service and Parts Today
It's easy to pick up and replace windshield wipers with the help of Sunrise Chevy! Our step-by-step tips should help you with the replacement process. If you would rather have our service department replace the blades for you, then visit our online service department appointment form. We can also take a look at your current blades to see if they need to be changed. We're your one-stop shop for parts and service. Contact us online with any questions you may have!
Comments
comments