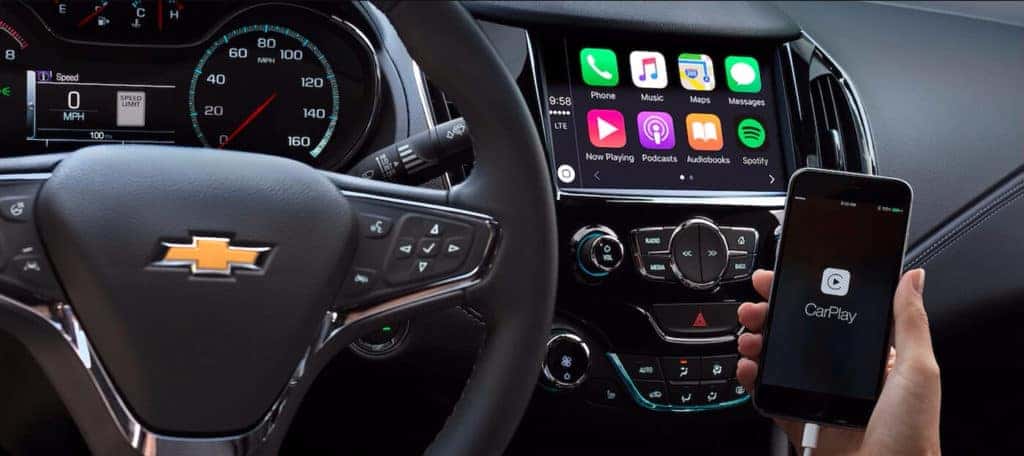 Many cars in the new inventory at Sunrise Chevy are equipped with smartphone connectivity features, like Apple CarPlay for iPhones. But, just what is Apple CarPlay? It's a simple plug-and-play system that syncs your phone features with your Chevy vehicle. From phone contacts to playlists to apps, you'll be blown away by all the programs you can access with just a touch of a screen. Find out all about Apple CarPlay with Sunrise Chevy!
How Do I Use It?
Apple CarPlay works with your vehicle's equipment, so you can access the tools you need without a second thought. Connect your phone to the vehicle with the USB port to get started. You'll see a grid of colored icons appear on your Chevy's display screen – just like the screen of your iPhone! If you have a touchscreen display, you can just tap the icon that you want to use. You can also use the knobs and buttons on a non-touchscreen display, or use Siri voice commands on compatible vehicles!
What Can It Do?
Apple CarPlay brings a host of high-tech features into your cabin, including entertainment options and state-of-the-art navigation. Check out some of your options below!
Get directions on the spot with Apple Maps. Not only can you pull addresses from emails and text messages, but you can also find new restaurants and coffee shops while driving.
You can make calls safely with a little help from Siri on the road. Just ask to make a call, return a call, or check your voicemail with a few words.
Need to check your text messages? Siri will take care of everything. She'll read and compose texts through your audio system, so you don't have to take your eyes off the road.
Listen to music from iTunes, Apple Music, apps and more. Flip through playlists and podcasts to create your personalized driving soundtrack.
If that's not enough, your CarPlay will support plenty of other apps from your iPhone. Add sports stations, news broadcasts, and much more.
How Do I Get Started?
Sunrise Chevy has an extensive selection of vehicles equipped with Apple CarPlay, and we'd be happy to show you how to use all the features in person. Drop by our dealership to try out this technology firsthand, or contact us to plan your next visit!