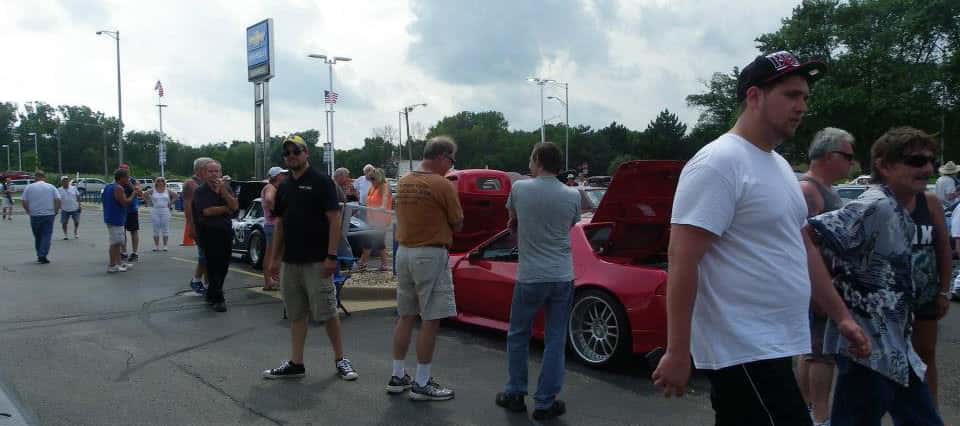 With spring finally upon us and summer fast approaching, most Glendale Heights area residents are looking forward to sunny days spent at festivals and long nights sitting around a campfire with friends. But if you're a classic car fan, you're likely more excited for spring and summer because they signal the arrival of weekend car shows. We've highlighted some of the best car shows near Glendale Heights to help you plan your summer accordingly, including our very own Sunrise Chevrolet Annual Car Show and USO Barbecue!
Sunrise Chevrolet Annual Car Show and USO Barbecue
Join Sunrise Chevrolet on Saturday, July 13, 2019, from 9:00 am – 4:00 pm for our Annual Car Show and USO Barbecue! All are welcome at this family-friendly event, and you'll be supporting a great cause, right here at our Glendale Heights dealership. Whether you're into classic muscle cars, custom builds, or vintage classics, you're sure to enjoy perusing the gorgeous models on display.
If you get hungry while walking around the car show, head on over to our USO Barbecue to purchase a delicious plate and support our troops. This is a cause that Sunrise Chevrolet holds close to our hearts, and we're proud to do our part in raising funds for the USO through our BBQ, though the car show is free to attend. If you have any questions about the event, don't hesitate to contact us online or give us a call at 630-942-8300.
Location: 414 E. North Avenue, Glendale Heights, IL
Show and Shine Car Show
This annual car show at the Glendale Heights Civic Center Plaza is the perfect way to close out summer. Join the Village of Glendale Heights for the Annual Show and Shine Car Show on Sunday, September 15, 2019, from 10:00 am – 3:30 pm for classic cars, music, great food, games, and crafts. If you have a vehicle you'd like to put in the show, registration is $12 before the show and $15 on the day of the show, but if you plan to attend as a viewer, admission is free. There are 19 vehicle classes included, with three trophies awarded for each class! Great food and unique crafts will be available for purchase all day, and music and games are sure to keep the kids entertained.
Location: 300 Civic Center Plaza, Glendale Heights, IL
Annual Chicagoland All Wheel Show – West
Make the short drive to Wasco, IL for the 9th Annual Chicagoland All Wheel Show – West on Sunday, June 23, 2019, from 10:00 am – 4:00 pm at The Lodge on 64. There will be 20 classes of cars, trucks, and motorcycles on display, ranging from antique to modern. 80 class awards will be given, as well as a Top Car, Top Truck, and Top Motorcycle award that each come with a $100 cash prize. Whether you're entering your vehicle or just stopping by to gaze at the gorgeous assortment of cars on display, this family-friendly event is a great way to spend the day!
Location: 41W379 Route 64, Wasco, IL
Find Your Very Own Classic Car at Sunrise Chevrolet!
Whether you attend one or all of the car shows near Glendale Heights we highlighted today, we hope to see you at Sunrise Chevrolet on July 13! There will be plenty of stunning antique and modern performance cars on display, like the Chevrolet Camaro and Corvette. You may well be inspired to treat yourself to your very own brand new model! But before you do, be sure to take a look at our new vehicle specials so you don't miss out on great savings. Looking for more local advice? Explore some of the best ways to spend a weekend in Chicago.
More from Sunrise Chevrolet
It's almost that time of year again – time for the Sunrise Chevrolet Annual Car Show & USO BBQ! If you're looking for family fun in the sun this summer, we would love for you to join us on Saturday, July 13 from 9 am to 4 pm to support our troops while enjoying some…

With spring finally upon us and summer fast approaching, most Glendale Heights area residents are looking forward to sunny days spent at festivals and long nights sitting around a campfire with friends. But if you're a classic car fan, you're likely more excited for spring and summer because they signal the arrival of weekend car…

The Chicago Auto Show is the largest in the country, and it's something that auto enthusiasts and automotive professionals look forward to each year. The 2019 auto show takes place from February 9th through the 18th, and it's the perfect opportunity to explore what Chevrolet has to offer this year. Contact Us 2019 Chevrolet Blazer…