Get ready for bold new exterior designs and a first-ever Turbo 1LE on the refreshed 2019 Chevrolet Camaro. The redesigns on this exciting pony are more than just skin-deep. You're going to love the updated engine options, updated aerodynamics, and exciting accessories that really make this car roar. The Camaro is already a muscle-car enthusiast's dream, but now it can double as your daily commuter and not cost you an arm and a leg. Check out what's coming for the 2019 Chevrolet Camaro and then stop by to test drive this incredible car today. See our online inventory now!
"Lauded since its introduction for its balance of driving fun, refinement, and value, the restyled 2019 Camaro reaches even higher with more of the design, technology, and choices that customers want," said Steve Majoros, Chevrolet marketing director for Cars and Crossovers. "It's a performer with few competitors and a pillar of Chevrolet's energized car lineup."
The refreshed 2019 Chevy Camaro features redesigned front and rear ends as well as more striking differences between the trim levels. All Camaros (except the ZL1) receive new headlights with LED accents that spill over into the grille, and are matched with a reshaped hood. The SS models showcase a flowtie badge and front bumper "air curtains" that are meant to improve the aerodynamics for better mileage and handling. The SS also gets special headlights with a unique LED light signature and a heat extractor vent on the hood for better performance. The only reason the ZL1's front end stayed the same is because it was already optimized for aerodynamics.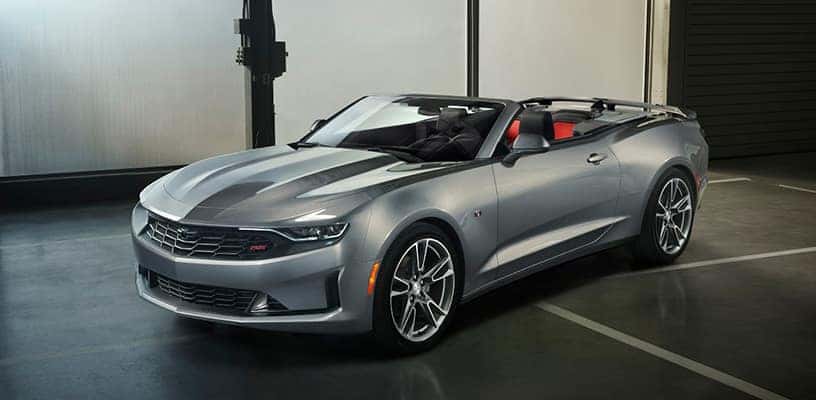 The Turbo 1LE package offers accessories that elevate this car to almost race-track quality, which also means you'll get more under the hood. This model is powered by a turbocharged 2.0-liter inline four-cylinder that produces a hefty 275 horsepower and massive 295 lb-ft of torque. This turbo-four Camaro is the last in the lineup to receive the coveted 1LE package, following the V-6, SS, and ZL1, which means that Chevy didn't skimp on the performance goodies.
The all-new Turbo 1LE additions to the 2019 Camaro include FE3 suspension with specially tuned dampers, enhanced lateral stiffness and larger diameter front and rear stabilizer bars. Plus you'll get the coveted Brembo brakes, a standard sueded flat-bottom steering wheel and shift knob, and a "track mode" option within the driver mode selector so you really can turn your daily drive into what feels like a lap around the track. Recaro seats are available to have the interior match the performance-spirit that's abundant under the hood.
And with all that cutting-edge exterior tech, the Chevy engineering team had to upgrade the interior to match. You'll enjoy the latest infotainment tech on a seven- or eight-inch color touchscreen that seamlessly integrates with your Apple or Android smartphone. Take advantage of the available built-in navigation, voice recognition, popular apps, and more to make your drive enjoyable every time you get behind the wheel.
Start your shopping experience with us and test drive any of our in-stock Chevrolet Camaro vehicles today. The 2019 Camaro will be available later this year, but you can talk to one of our team members about securing your model today!