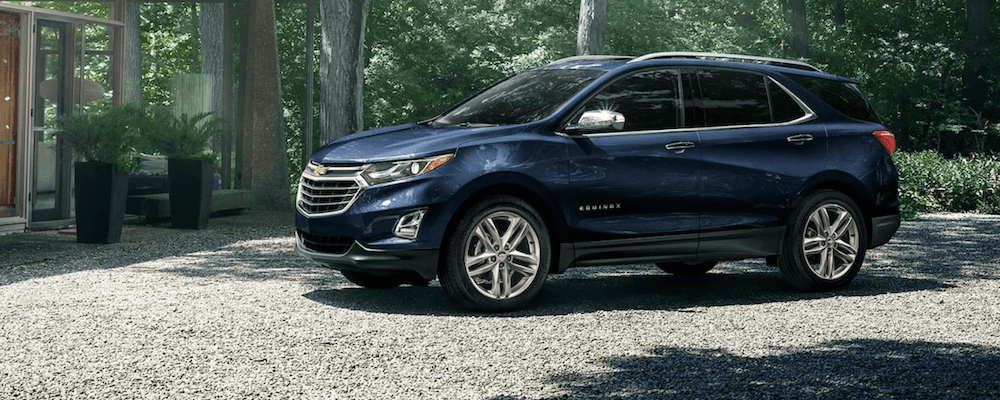 Chicago drivers on the hunt for a crossover that has the muscle to tow a small pop-up camper or motorboat, read on to learn about the Chevy Equinox engine, the Chevy Equinox payload, and the Chevy Equinox towing capacity. Then, apply for financing and contact us to experience the capability of the new Equinox with a test drive at Sunrise Chevrolet in Glendale Heights.
Chevy Equinox: Engines & Towing Specs
The Chevy Equinox comes with two engine options, each of which pairs with its own unique set of trims. With the standard 1.5L, you'll be able to tow up to 1,500 pounds. With the available 2.0L, you'll be able to tow up to 3,500 pounds.
Standard EcoTec 1.5L Turbocharged Engine: With GCWR rating of 5,247 pounds when paired with a FWD drivetrain, and a 5,467 pound rating on the AWD drivetrain, this engine allows you to tow up to1,500 pounds. 
Available 2.0L Turbocharged Engine: This available Equinox engine boasts a GCWR rating of 7,694 pounds. When you opt for the 2.0L over the 1.5L engine and also add on the Chevy Equinox towing package, it gives the Equinox a maximum towing capacity of 3,500 pounds.
Can the Chevy Equinox Tow a Trailer?
Reading about the Chevy Equinox towing capacity or Equinox specs doesn't always give you a clear picture of what the Chevy Equinox engine options are capable of on Carol Stream treats. If you have a trailer, and you're wondering if it's in the Equinox's wheelhouse to tow it, know that Chevy recommends you not tow anything that is more than 10 to 15% of your Equinox's GCWR (gross combination weight rating). Here are some other things that are useful to know:
For Camping: Opt for the 1.5L engine, and your Equinox will be able to tow a teardrop camper. Upgrade to the 2.0L engine options, and you'll be fine hitching up an Airstream Caravel.
For Working: Opt for the available 2.0L, and you can tow a Big Tex Trailer's 35SV utility trailer (77 inch x 10-14 feet) and fill it to capacity.
Experience the Chevy Equinox Towing Capacity With a Test Drive
If you're looking to take a closer look at the capability of the Equinox specs, Equinox engine, or Equinox payload, give Sunrise Chevrolet a call at(630) 348-8312. Well set Addison drivers up with a test drive and break down all the performance highlights that place the Chevy Equinox a cut above the competition. Do you have questions about other Chevy models or features? Explore our Chevy guides for other reads about Chevy MyLink and more!
Learn More at Sunrise Chevrolet
FOR IMMEDIATE RELEASE Contact: Daniel Schomer Email: [email protected] Phone: 630-942-8300 January 27, 2023 CARFAX Recognizes Sunrise Chevrolet as a Top-Rated Dealer in the Country  Glendale Heights, IL – CARFAX has named Sunrise Chevrolet as a top-rated dealer in the country: an exclusive honor given to dealers who exhibit the best of the best in customer…

We know what you're thinking. Every auto manufacturer seems to have one, two, sometimes even three compact crossovers to choose from. With so many options, it can be easy to get decision fatigue.  Luckily, we're here to help. We're going to take a closer look at two of the most popular models dominating roadways, the…

When you're in the market for a compact crossover, it may feel like there are loads of vehicles to choose from. After all, this segment is one of the fastest growing classes in the automotive industry. It's only natural to ask yourself, "What's the difference?"  Two of the most popular compact crossovers on the road…