It's almost that time of year again – time for the Sunrise Chevrolet Annual Car Show & USO BBQ! If you're looking for family fun in the sun this summer, we would love for you to join us on Saturday, July 13 from 9 am to 4 pm to support our troops while enjoying some great BBQ and, of course, lots of gorgeous vintage cars! The event will be held right here at Sunrise Chevrolet, located at 414 E. North Ave, Glendale Heights, IL, 60139.
Enjoy the Beautiful Weather and Beautiful Cars
Whether you're into sleek muscle cars, quirky custom builds, or vintage classics, you'll find no shortage of gorgeous cars to check out at the Sunrise Chevrolet Car Show. Each car's owner will be readily available if you'd like to ask questions about their car or just chat with a fellow enthusiast. Of course, photos are encouraged, too!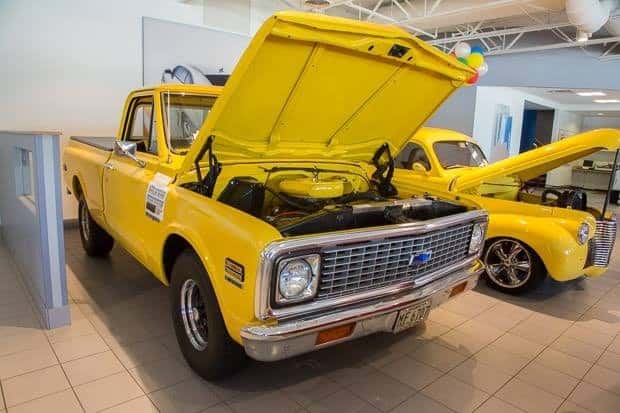 Support the Troops with Delicious BBQ
Walking around in the summer sun can tire you out quickly. When it's time to refuel, head on over to the USO Barbecue to grab some grub. Sunrise Chevrolet is incredibly proud to raise funds for the USO, as it is a cause that hits close to home for us. While the car show is free to attend, there will be a small fee for a BBQ plate. All of the earnings are donated to the USO, so you can feel great knowing you're chowing down for a great cause!
We Look Forward to Celebrating with You!
We hope to see you and your family at Sunrise Chevrolet on Saturday, July 13! It's sure to be a day of festivities that will stand out as a highlight for your summer, so don't hesitate to join us. Have questions? Feel free to contact us or give us a ring at 630-942-8300. If you do attend the show, be sure to share any photos or stories with us afterward! We love interacting with the Glendale Heights community.
More from Sunrise Chevrolet
When you're in the market for a vehicle that offers the versatility of a full-size pickup truck but the maneuverability of a smaller vehicle, eventually midsize pickup trucks will land on your radar. Enter the 2022 Chevrolet Colorado and the 2022 Ford Ranger. We're going to take a closer look at these two midsize pickup…

When you need to accommodate a baby's car seat or a kid's little league team, full-size SUVs are the perfect solution. After all, these three-row SUVs offer loads of room for people and plenty of cargo space when the seats are lowered. The question then becomes which one is the right choice for your growing…

When you have a big job on your hands, you need the right tools to get it done. That's why so many people gravitate towards full-size pickup trucks when they need to tow or haul a large load. Pickup trucks are one of the most popular vehicles you'll find on the roadways today, so you…