2019 Chevrolet Silverado Pace Truck Featured in Daytona 500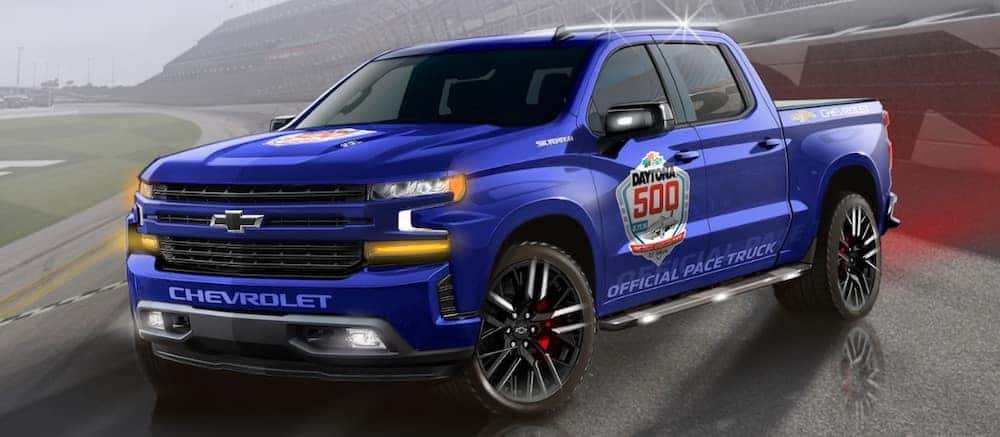 Truck lovers from Chicago to Addison know that the Chevrolet Silverado 1500 is one of the best trucks on the market. This popular pickup has been well-loved for many years, and the 2019 Chevy Silverado will be the first pickup truck ever to pace in the Daytona 500.
Chevrolet and the Daytona 500
This is not the first time Chevy has paced the Daytona 500. In fact, the automaker has paced the race 12 times — five with the Chevy Corvette and seven with the Chevy Camaro.
This year, the 2019 Chevy Silverado 1500 will be driven in the July race by two-time Daytona 500 winner Dale Earnhardt Jr.
"I've had a lot of fun and a lot of success at Daytona over the years, and now I can't wait to get out on that track in a Silverado," Earnhardt Jr. told Chevrolet. "Away from the track I've driven Chevy trucks all my life, and I'm excited to have this unique experience of pacing the Daytona 500 with the Silverado."
Features of the 2019 Chevrolet Silverado 1500
Earnhardt Jr. is sure to appreciate the power of this truck, thanks to its 6.2L V-8 engine paired with a 10-speed automatic transmission that delivers 420 hp and 460 lb-ft of torque.
The 2019 model also features a new body style. It's lost about 450 pounds off the frame and the body, thanks to the use of high-strength steel and aluminum on the exterior. The steering column is now squared to the driver, the truck bed is 7 inches wider, and the overall length has increased by approximately 1.6 inches. There are also four new grille designs for the front of this truck this year.
Comments
comments
Join the Conversation
Comments
comments