A Heartfelt Tribute to Dale Earnhardt Jr.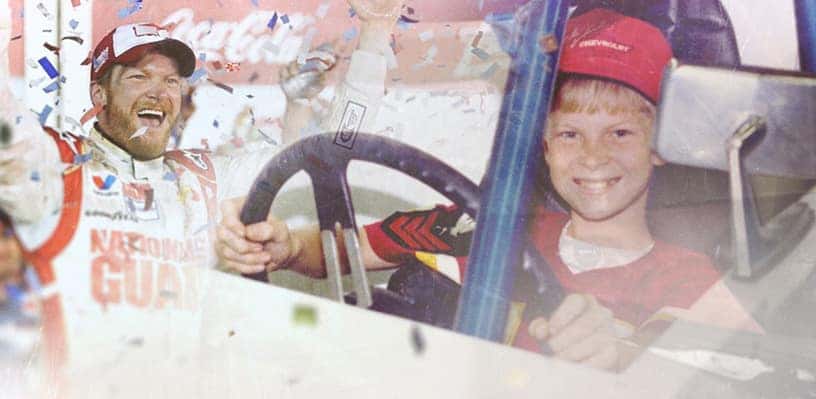 Chevy is proud to honor one of the most celebrated drivers in NASCAR and Chevrolet history, Dale Earnhardt Jr. He is retiring at the end of this race season after a 22-year professional racing career and our brand sends him off with a heavy heart. Following the Monster Energy NASCAR Cup Series AAA Texas 500 at the Texas Motor Speedway this weekend, you can see a new TV clip celebrating the major milestones in Earnhardt Jr.'s career.
The 30-second spot showcases the many thrilling memories spanning Earnhardt Jr.'s career, including never-before-seen photos, and footage from defining moments like his two Daytona 500 victories and his 26 race wins. The segment is aptly called, "What a Ride," and we invite you to enjoy a sneak peek at it below.
"We have been so fortunate to have Dale Earnhardt Jr. as part of the Chevrolet family," said Paul Edwards, U.S. vice president of Chevrolet Marketing. "His 'Never Give Up' attitude and true passion for performance are the same qualities that drove Louis Chevrolet to race more than a hundred years ago, and still drive us today to innovate and win."
Earlier this year, during his retirement speech, Earnhardt Jr. affirmed his loyalty to the brand: "It's an honor to carry the Chevrolet bowtie on my cars. And I don't just mean that on the race track — I'm Chevrolet for life." 
We wish Earnhardt Jr. best wishes on his retirement He has truly earned his recognition and accolades. Be sure to catch the TV spot this weekend on the NBCSN broadcast.
You can feel like Earnhardt Jr. too the next time you get behind the wheel if you stop by to test drive any of our new Chevrolet vehicles today! We're ready to help you find the vehicle that inspires you to drive with as much excitement as Earnhardt Jr. does every time on your commute. Check out our current inventory of Chevrolet vehicles online now.
Images courtesy of Chevrolet Media
Comments
comments